Interview
"Siggi" Hilmarsson: "Volcanic lava bread is sweeter, but it's not a cake"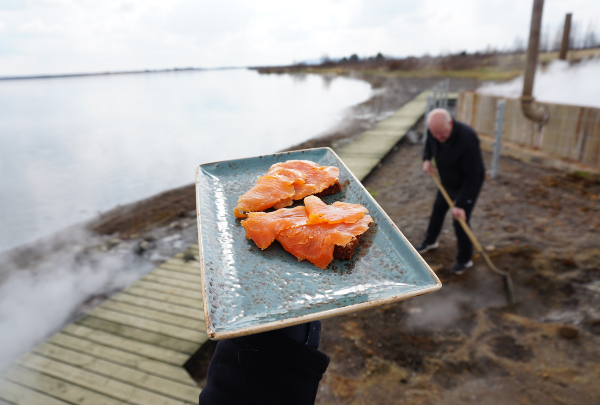 The only baker in the world who makes bread with volcano lava was at Worldcanic.

We talked to the Icelandic baker who makes bread directly on volcanic soil. Chef and businessman Sigurour "Siggi" Rafn Hilmarsson has worked professionally at hotels and restaurants in Nordic countries, although in recent years he has settled in his native Iceland, where he runs a thermal spa complex which also offers a bread-baking experience in volcanic sand. Siggi was at Worldcanic to talk about this system and the final outcome, and also to "get in a little sun, because we don't see too much of it in Iceland ...".

Are you a chef? Are you a businessman? Who is "Siggi" Rafn Hilmarsson?

I'm a chef, but I don't spend as much time in the kitchen as I used to. But if we're talking about my role making Icelandic geothermal rye bread, then you can call me a businessman. But the real businesswoman was my grandmother and her generation, because the recipe goes back many, many years. Now Siggi Rafn Hilmarsson is a family man. I'm married, with three children.

What is Laugarvatn Fontana? How did you end up there?

After running local summer hotels for years, they offered me a job as general manager of Laugarvatn Fontana when it reopened in 2011 after a lengthy refurbishment. Now it's a refuge in the natural wilderness of Iceland. It has natural geothermal swimming pools, hydromassage baths, organic steam baths, Finnish saunas, and it also has access to the freshness of Lake Laugarvatn and the curative properties of its natural steam baths. We round off the experience with local cuisine and, of course, our geothermal bread which we bake every day.

Directly in volcanic soil ...

We bake the bread to an old recipe. We put it in the soil and we bake it for 24 hours. Then we take it out, and it's delicious! Guests can see the geothermal bread-baking process close up, because they watch as we dig out a space for the pot with fresh bread in hot black sand. Guests can try the bread afterwards, served up directly with Icelandic butter and smoked trout from the lake.

Is it really volcanic lava bread?

The magma heats up the layers of water, and they boil up to the surface around the lake. The black sand covers the surface, and so if you dig a hole in the sand you can see the water boiling below. The rye bread dough is put into a pot, and is buried and boiled for 24 hours in the sand. So yes, it's bread baked with volcanic lava.

How does it taste?

Many of our guests say it reminds them of gingerbread. It's sweet, but it's not a cake.

Is Icelandic cuisine volcano cuisine?

The short answer is no, but we do take account of the earth's heat. In Iceland, volcanic soil is used to heat greenhouses and all houses in general. By heating our greenhouses, we can grow vegetables, wild mushrooms or berries all year round.

What is Icelandic cuisine? You've worked in Denmark too. What do they think about the boom in Danish cuisine in Iceland? Is it generally the high point of Nordic cookery?

I'd say that Icelandic cuisine is increasingly less like Nordic cookery. People in Iceland have a good opinion of the boom in Danish cuisine. We're sister nations, and I think that Icelandic chefs can learn a lot from the Danes, and the Danes can also learn from us. But we're different. Our cuisine is mainly fish, lamb and, of course, skyr.

What are you expecting from Worldcanic?

I hope to meet many wonderful people, see new things about cooking from natural sources, and learn from them. And also, you must let me say this, I'm going to Lanzarote for a bit of sunlight, because we don't get too much of that in Iceland ...

Magazine